"Nature dictates everything, all activities: health, productivity, mobility, life, and death. One must learn to commune with this reality wholeheartedly, and to do so with humility, with respect, and with gratitude—and if you can do that, you will be able "listen" to it and to learn."

— Laura Anderson Barbata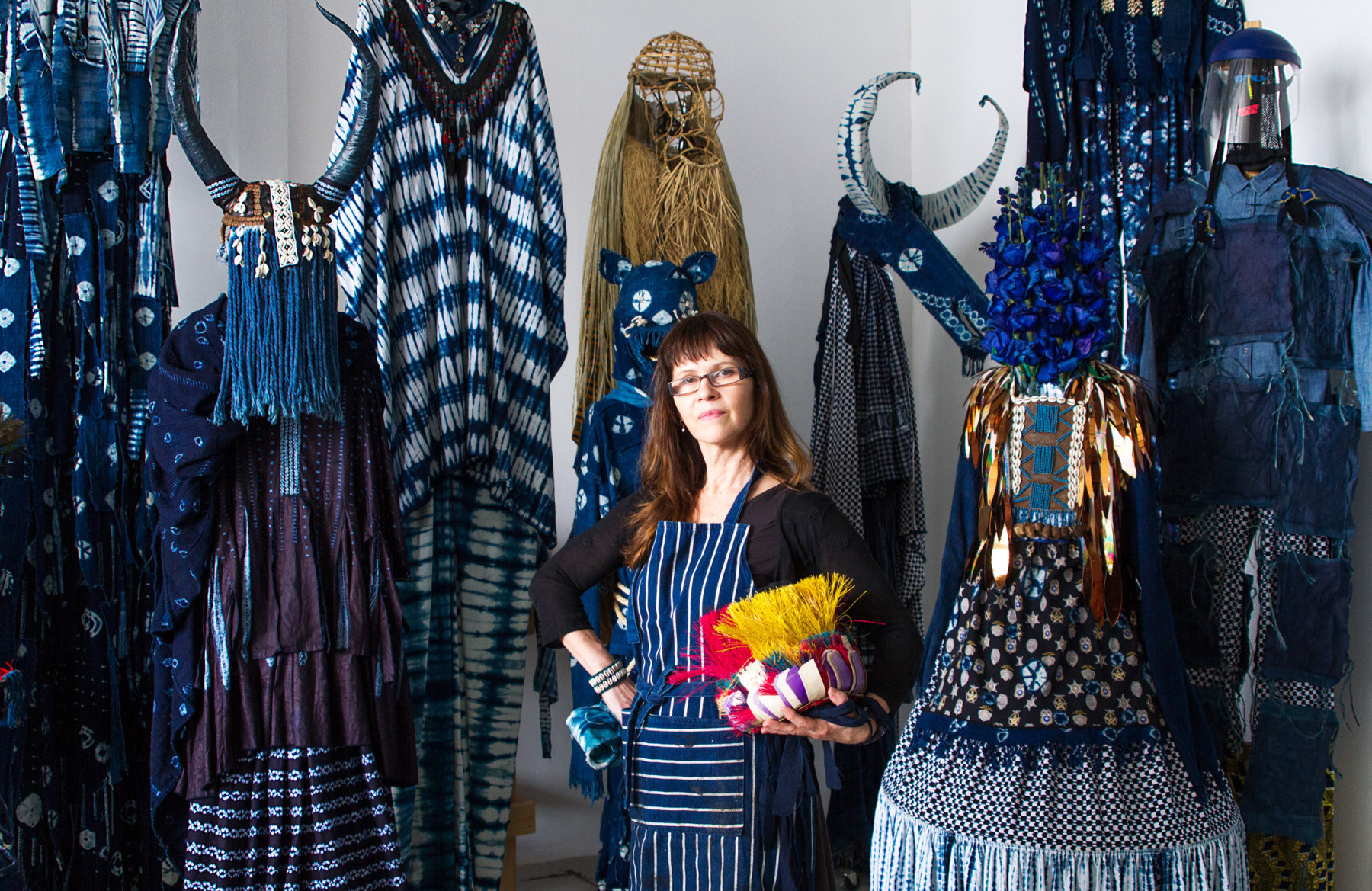 Born in 1958 in Mexico City, Laura Anderson Barbata is a transdisciplinary artist, performer, writer, and educator who lives and works between New York and Mexico City. Since 1992 Anderson Barbata has worked primarily in the social realm, initiating projects in the Venezuelan Amazon, Trinidad and Tobago, Mexico, Norway, and the United States. Among them is the ongoing The Repatriation of Julia Pastrana, begun in 2005, which resulted in the removal of the project's titular figure's body from the Schreiner Collection in Oslo, Norway and its successful repatriation and burial in Sinaloa, Mexico, Pastrana's birth state. The project continues with Anderson Barbata's production of related artworks, publications, zines, and performances.
Anderson Barbata is also known for her project Transcommunality (2001–present), presented in collaboration with stilt dancers, artists, and artisans from Mexico, New York, and the Caribbean. Transcommunality has been staged at various museums, schools, and other public spaces both as exhibitions and performance "Interventions." Among them are Columbia University, New York (2023); The Watermill Center, Water Mill (2021); Newcomb Art Museum, New Orleans (2021); MUCA Roma, UNAM, Mexico (2020); BRIC Arts | Media House, Brooklyn (2019); The Kennedy Center for the Performing Arts, Washington, D.C. (2019); Isabella Stewart Gardner Museum, Boston (2017, 2018); Rutgers University, New Brunswick (2017); United Nations Plaza, New York (2017); University of Wisconsin, Madison (2015); Museo Textil de Oaxaca, Mexico (2012, 2016); The Modern Art Museum of Fort Worth, Texas (2008); and the Museum of Modern Art, New York (2007).
As of 2023, Anderson Barbata has been awarded numerous grants, prizes, residencies, and teaching positions, including: CAA Board of Directors (2018–present); Honorary Fellow of LACIS (the Latin American, Caribbean, and Iberian Studies Program), University of Wisconsin, Madison (2015–present); CAA Vice President for Diversity and Inclusion (2023–24); Artist Fellow, National Arts Club, New York (2022–23); The Experience of the Common for CLASSROOM, presented by LA ESCUELA___ and the School of Architecture and Design PUCV, Chile (2022); CAA Vice President for Annual Conference and Programs (2021–22); Artist in Residence, Bellagio Center, Rockefeller Foundation, Italy (2019); Defense of Human Rights Award from the Instituto de Administración Pública de Tabasco, Mexico (2017); Estelle Lebowitz Endowed Visiting Artist in Residence, The Center for Women in the Arts and Humanities, Rutgers University, New Brunswick (2016–17); Artist in Residence, Isabella Stewart Gardner Museum, Boston (2016); Anonymous Was a Woman Award (2016); Fellow of the Thyssen-Bornemisza Art Contemporary TBA21 Academy (2015); Artist in Residence, Interdisciplinary Arts Department, Columbia College Chicago Center for Book and Paper, Chicago (2012); Miembro del Sistema Nacional de Creadores, FONCA-CONACULTA, Mexico (2014–17 and 2010–13); and Professor at the Escuela Nacional de Escultura, Pintura y Grabado La Esmeralda of the Instituto Nacional de Bellas Artes, Mexico (2010–15).
Anderson Barbata has also been invited to give talks and lectures. In 2023, Anderson Barbata gave an artist talk accompanying Chosen Memories: Contemporary Latin American Art from the Patricia Phelps de Cisneros Gift and Beyond, Museum of Modern Art, New York. Other artist talks have been held at Vienna Tanzquartier, Center of Performing Arts, Vienna (2023); RISD Museum, Providence (2023); Museo Rufino Tamayo, Mexico City (2023); Boston University, Boston (2022); Universidad Nacional Autónoma de México, Mexico City (2022); the Reva and David Logan Symposium on the Artist Book, Legion of Honor Museum, San Francisco (2021); Los Angeles County Museum of Art, Los Angeles (2019); and Bard College, Annandale-On-Hudson (2019). Anderson Barbata was also the Commencement Speaker at CENTRO, Mexico City (2020) and the Keynote Speaker at the North American Textile Conservation Conference, Smithsonian Museum of the American Indian, New York (2015).