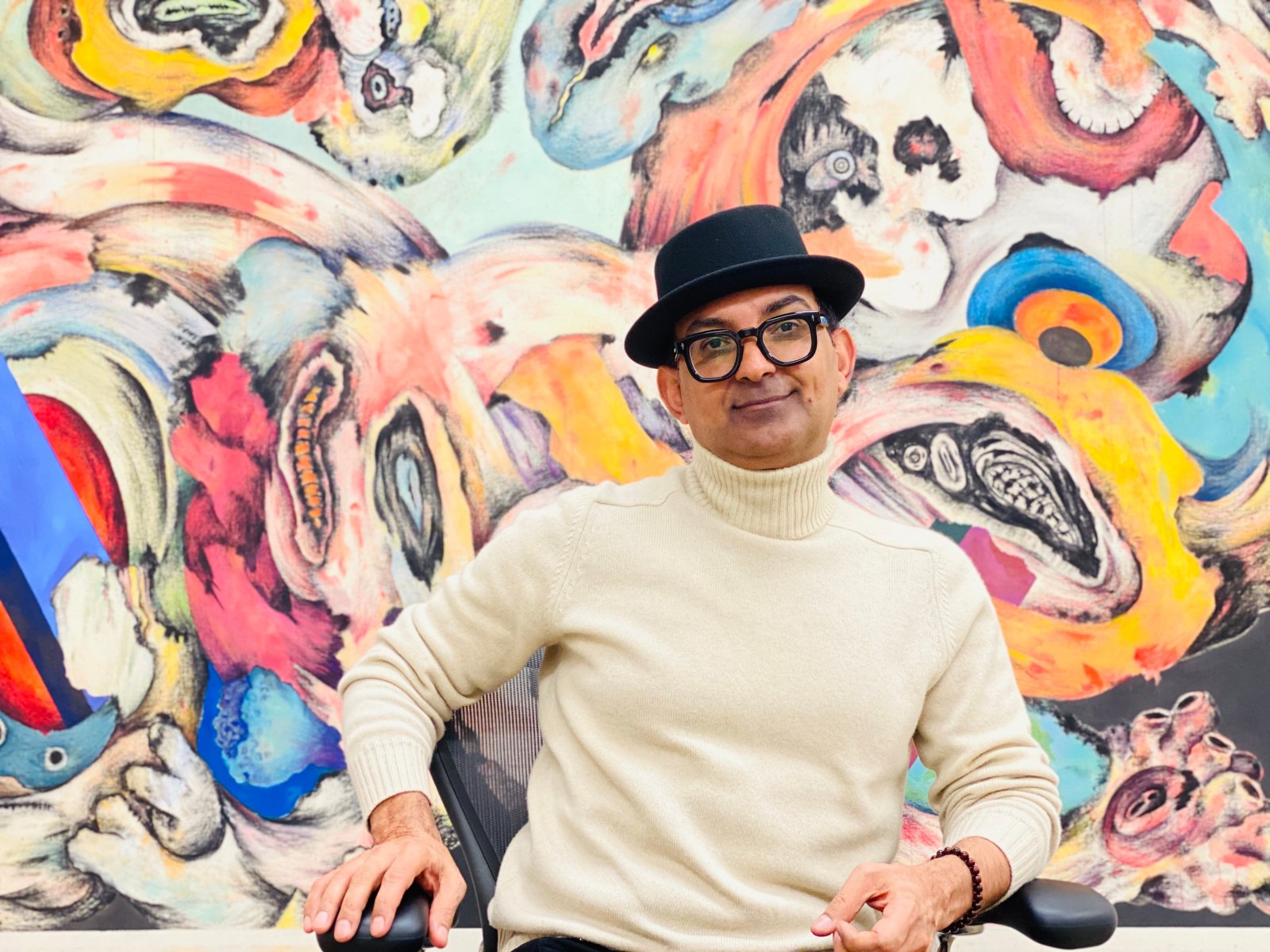 Ahmed Alsoudani was born in 1975 in Baghdad, Iraq. From an early age, he nurtured a pronounced interest in drawing and reading. With access to a home library with a diverse collection assembled by his older brother's friend, Alsoudani spent most of his youth reading, developing an especial fascination with Russian literature, which opened his eyes to the world and would later profoundly influence his art practice.

In early 1995, Alsoudani left his home for Damascus, Syria, where he lived among Iraqi and Arab artists and poets for four years. These deeply enriching relationships allowed him to clearly set his artistic objectives. He began to read about art in-depth and developed more serious understandings of drawing and painting. During this time, his growing desire to become an artist and search for a better life led him to the United States in 1998.

After spending his first year in the United States in Washington, D.C., Alsoudani arrived in Portland, Maine in 1999, where he completed his first four years of academic study at Maine College of Art (MECA) from 2001 until 2005. During his junior year, Alsoudani was accepted to Yale Norfolk Summer School of Art, a program established in 1948 for young undergraduate art majors, and where Philip Guston and Willem de Kooning had once taught and served as visiting artists. While Alsoudani completed the program, other visiting artists included Kiki Smith and Dana Schutz.

In the summer of 2006, the Skowhegan School of Painting and Sculpture awarded Alsoudani with his second residency where he worked alongside fellow visiting artists Joan Jonas and Nicole Eisenman. Working for the first time in his own studio, Alsoudani experienced life as a full-time artist for nine weeks, propelling him further towards his goal of becoming a painter.

Alsoudani was accepted to the Yale School of Art in the fall of 2006, where he would pursue his Master of Fine Arts in Painting. For two years, the artist studied with Peter Halley, Robert Storr, Mel Bochner, Caroll Dunham, and Sam Messer, all of whom greatly helped him shape his thoughts and artistic practice.

After graduating from Yale in 2008, Alsoudani moved to Berlin, eager to experience the German art scene first-hand after studying German art and literature during his undergraduate studies. While residing in Berlin, the artist had solo exhibitions at Goff + Rosenthal in Berlin and Robert Goff Gallery in New York. His work was also featured at Unveiled: New Art from the Middle East at Saatchi Gallery in London in 2009, which brought the emerging artist increased attention.

Alsoudani returned to the United States in the fall of 2009, where he settled in New York City's Soho neighborhood, a century-old hub for artists, and established his studio in Chelsea, amidst its plethora of contemporary art galleries.

In 2011, Alsoudani represented Iraq in the 54th Venice Biennale, the country's first presentation in 35 years. At the same time, his work was featured in The World Belongs to You at the Pinault Collection's Palazzo Grassi, Venice. The same year, Alsoudani was featured in Told / Untold / Retold at The Arab Museum of Modern Art, Doha, Qatar and mounted a solo exhibition at Haunch of Venison in London.

In 2012, Alsoudani mounted his first solo museum exhibition at the Wadsworth Atheneum Museum of Art in Hartford, Connecticut. The same year, the artist held his second exhibition with Haunch of Venison in New York, as well as a solo presentation with L&M Arts in Los Angeles, California.

In February 2013, Marlborough Chelsea organized the group exhibition Ahmed Alsoudani, Francis Bacon, Philip Guston, Paula Rego. The following month, the artist's second solo museum exhibition Redacted opened at the Phoenix Museum of Art, Phoenix, Arizona, which subsequently traveled to the Portland Museum of Art, Portland, Maine. Another solo exhibition opened at Veneklasen/Werner, Berlin in September of that year. Gladstone Gallery mounted the artist's next solo exhibition in the fall of 2014 in New York. Alsoudani's work was later featured at Maine Collected at the Bates Museum of Art in 2015.

In 2017 Marlborough London presented Alsoudani's first solo exhibition with the gallery, followed by a second solo exhibition at Marlborough New York in the fall of 2018.

In December of 2018, Alsoudani was featured in Artists in Exile: Expressions of Loss and Hope at The Yale University Art Gallery alongside Max Beckmann, Arshile Gorky, and R. B. Kitaj, among others. Alsoudani was also included in the 2018 exhibition, Chaos and Awe: Paintings for the 21st Century, at the Frist Art Museum in Nashville, Tennessee. The exhibition then traveled to the Chrysler Museum of Art, Norfolk, Virginia in 2019.

Alsoudani's forthcoming museum solo exhibition will open in October 2021 at the Fabric Workshop and Museum, Philadelphia, Pennsylvania, following a two-year residency there.