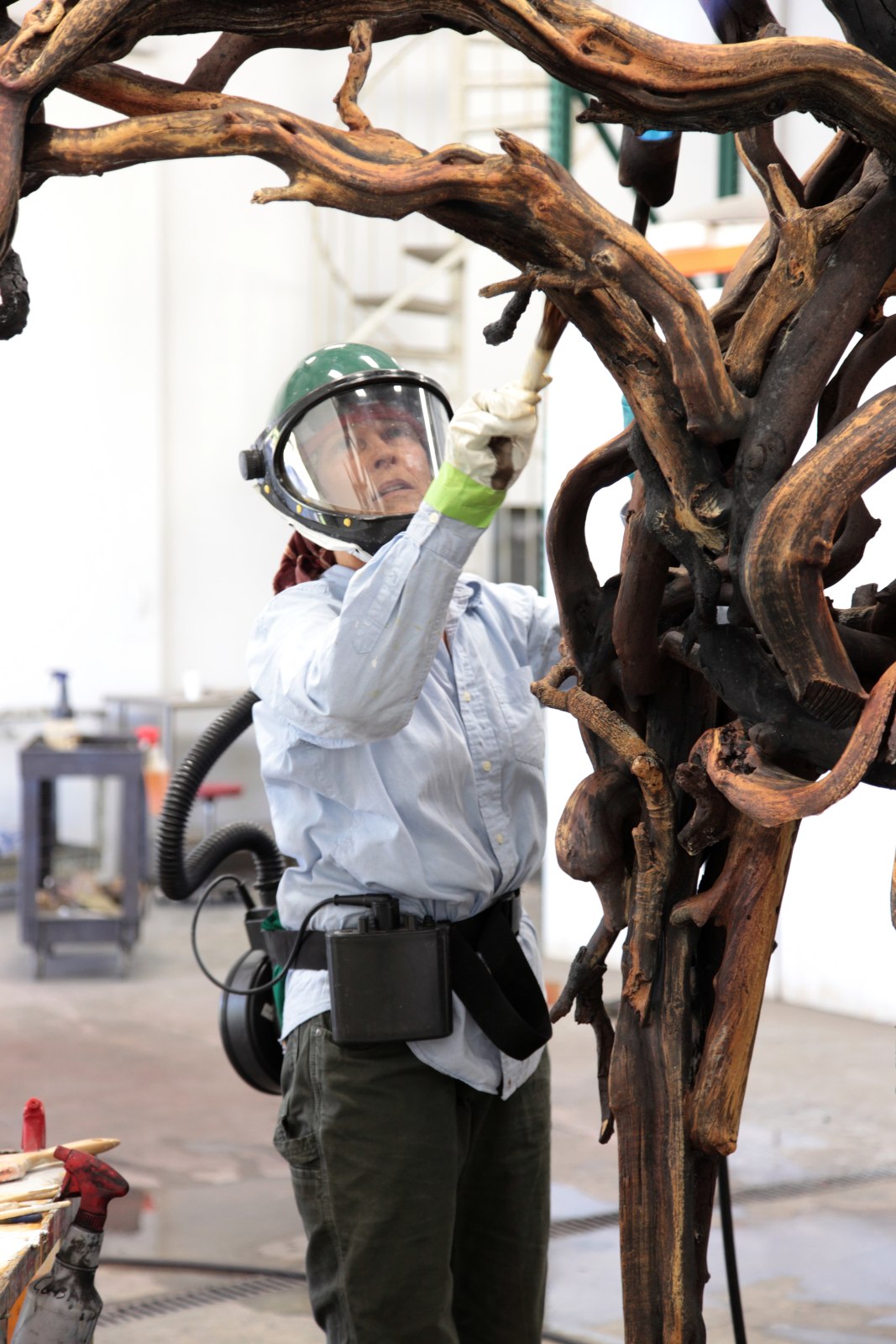 The Directors of Marlborough are pleased to present the gallery's first exhibition of the American sculptor, Deborah Butterfield, well known for her renditions of horses made from found detritus, metal, wood, and patinated cast bronze. This exhibition also coincides with the presentation of Butterfield as the recipient of the 2022 Lifetime Achievement Award from the International Sculpture Center on November 4th at Marlborough Gallery.
Deborah Butterfield was born on the same day as the 75th Kentucky Derby, an event which she describes as an impetus for her lifelong fascination with her unique subject matter: horses. Along with boarding and caring for her own horses, her sculptures exemplify the great appreciation and respect she has for them. Despite being an accomplished rider herself, Butterfield renders her horses as stoic and unridden, fixed in a perpetual state of solitude, their branch-like corporeality almost haunting. Simultaneously, her sculptures serve as a symbol for the vitality and allure of the natural world, their formality an embodiment of the inner world of the horse.
A fully illustrated 160 page catalogue with an essay and interview by Lawrence Weschler will accompany the exhibition. In the interview with Weschler, Deborah Butterfield says:
Horses are like the ocean. I mean, they're extremely civilized and domesticated. They're very smart—maybe not at doing what people do or what dogs do but they're really smart at what they do. They're the best at being horses of anybody. But there is that danger and respect. The idea that at any moment they could kill you. Not that they want to. They're just—they're forces of nature. It can get to be like a rogue wave: you just never turn your back on the ocean.
Following her first exhibition in 1976 at Zolla/Lieberman Gallery, Butterfield has exhibited widely, mounting solo shows at the Seattle Art Museum, Seattle, Washington; Dallas Museum of Fine Arts, Dallas, Texas; Lowe Art Museum, University of Miami, Coral Gables, Florida; Madison Art Center, Madison, Wisconsin; San Diego Museum of Art, San Diego, California; Yellowstone Art Museum, Billings, Montana; The Contemporary Art Museum, Honolulu, Hawaii; Neuberger Museum of Art, Purchase, New York; Norton Museum of Art, West Palm Beach, Florida; Tucson Museum of Art, Tucson, Arizona; and Grounds for Sculpture, Hamilton, New Jersey, among others.
Butterfield's work is held in numerous prominent public collections, including the Art Institute of Chicago, Chicago, Illinois; The Brooklyn Museum, Brooklyn, New York; Chrysler Museum, Norfolk, Virginia; Cincinnati Museum, Cincinnati, Ohio; Dallas Museum of Art, Dallas, Texas; Hirshhorn Museum and Sculpture Garden, Washington, D.C; The Metropolitan Museum of Art, New York, New York; Nelson-Atkins Museum of Art, Kansas City, Missouri; San Francisco Museum of Modern Art, San Francisco, California; Walker Sculpture Garden, Minneapolis, Minnesota; and the Whitney Museum of American Art, New York, New York.
Marlborough Gallery is open Tuesday through Saturday from 10am until 6pm. There will be an opening reception for this exhibition on Thursday, November 3, 2022, from 6–8pm.