It is your job to make photographs,
let the future look at them.

—Berenice Abbott, 1936
Tuesday, January 24
from 6 – 8pm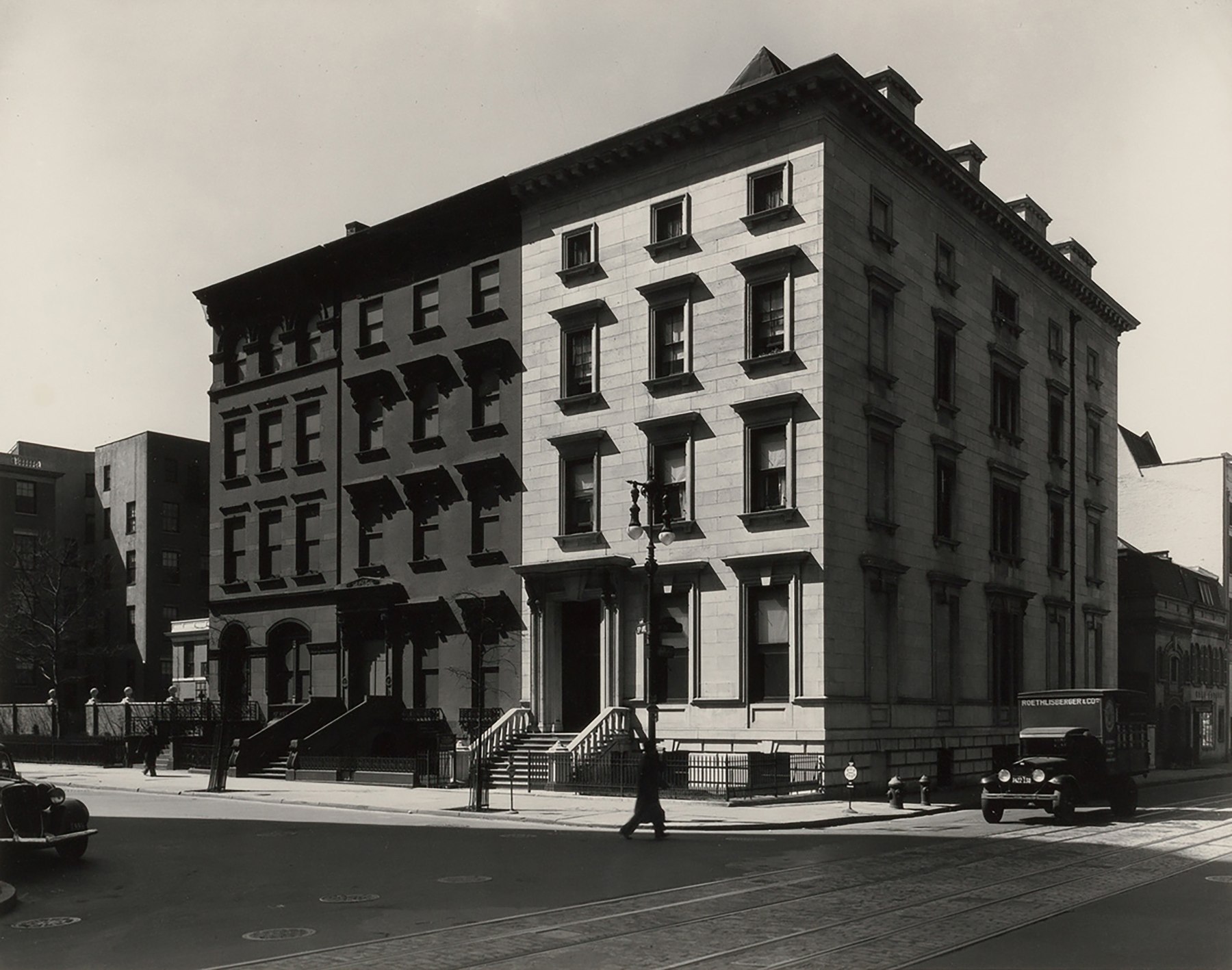 The Directors of Marlborough are pleased to present Berenice Abbott's Greenwich Village, an exhibition of over fifty photographs from Marlborough's collection, including several of the artist's most iconic images of Greenwich Village alongside a selection of rare pictures never before published. The exhibition will open on the gallery's second floor on Tuesday, January 24, and remain on view through Saturday, March 11, 2023. Accompanying the exhibition will be a fully illustrated gallery publication including a new essay by Robert Slifkin, Director of Graduate Studies at the Institute of Fine Arts, New York University.
Berenice Abbott (1898-1991) first arrived in Greenwich Village from her native Ohio at the age of nineteen in 1918 and quickly found herself among the literary and artistic demimonde. Having intended to pursue journalism and sculpture, it was not until her extended sojourn to Paris from 1921 through 1929 when she delved into the medium of photography, training in the atelier of Man Ray. In Paris Abbott encountered and photographed many of the modernist figures she had known during her initial stay in Greenwich Village: the eccentric editors of the avant-garde literary magazine The Little Review Margaret Anderson and Jane Heap, founder of the Village's Civic Repertory Theatre Eva Le Gallienne, writers Djuna Barnes and Solita Solano—as well as locals like Jean Cocteau, Coco Chanel, Eugène Atget, and the American foreign correspondent for The New Yorker Janet Flanner.
Upon her return to New York in 1929, now fashionable and successful, Abbott saw the city with new eyes. She set up a portrait studio, photographing prominent American businessmen for Fortune magazine, as well as prominent New Yorkers who ran in her social circle, like Carl Van Vechten, Edna St. Vincent Millay, and A'Lelia Walker, hoping that the profits would allow her to devote time to her real passion of documenting the ever-shifting urban landscape. In 1934, she began teaching photography at The New School for Social Research. By 1939, with her partner Elizabeth McCausland, she would publish her most well-known project, Changing New York, financed by the Federal Art Project of the Works Progress Administration, and featuring ninety-seven of the roughly three hundred photographs she took throughout the five boroughs between 1935 and 1939.
The present exhibition includes a group of portraits from both her Paris and New York studios, a selection of Abbott's photographs of the Village first published in Changing New York, and several more taken throughout the next decade while she was at work on the 1949 publication Greenwich Village: Today & Yesterday, wherein seventy of her pictures were reproduced alongside prose by Henry Wysham Lanier.
Abbott first began exhibiting at Marlborough in 1975 as part of an exhibition entitled Three Photographers—Three Cities: Bill Brandt, Berenice Abbott and Brassaï. Two solo exhibitions devoted to Abbott would follow, in 1976 and 1985.
Abbott's photographs are held in many of the world's most prestigious photography collections, including the Amon Carter Museum of American Art, Fort Worth, Texas; Art Institute of Chicago, Illinois; Brooklyn Museum, Brooklyn, New York; Centre Georges Pompidou, Paris, France; Dallas Museum of Art, Dallas, Texas; Fine Arts Museums of San Francisco, California; George Eastman Museum, Rochester, New York; Harvard University Art Museums, Cambridge, Massachusetts; Hirshhorn Museum and Sculpture Garden, Smithsonian Institution, Washington, District of Columbia; International Center for Photography; New York; J. Paul Getty Museum, Los Angeles, California; Los Angeles County Museum of Art, Los Angeles, California; The Metropolitan Museum of Art, New York; MIT Museum, Cambridge, Massachusetts; Musée d'Orsay, Paris, France; Museum of the City of New York, New York; Museum of Contemporary Photography at Columbia College, Chicago, Illinois; Museum of Fine Arts, Houston, Texas; The Museum of Modern Art, New York; National Gallery of Art, Washington, District of Columbia; New York Public Library, New York; Peggy Guggenheim Collection, Venice, Italy; Philadelphia Museum of Art, Philadelphia, Pennsylvania; The Phillips Collection, Washington, District of Columbia; San Francisco Museum of Modern Art, San Franscisco, California; Syracuse University Art Museum, Syracuse, New York; Victoria & Albert Museum, London, England; and Walker Art Center, Minneapolis, Minnesota, among others.
Special thanks to Staley-Wise Gallery and Todd Watts.