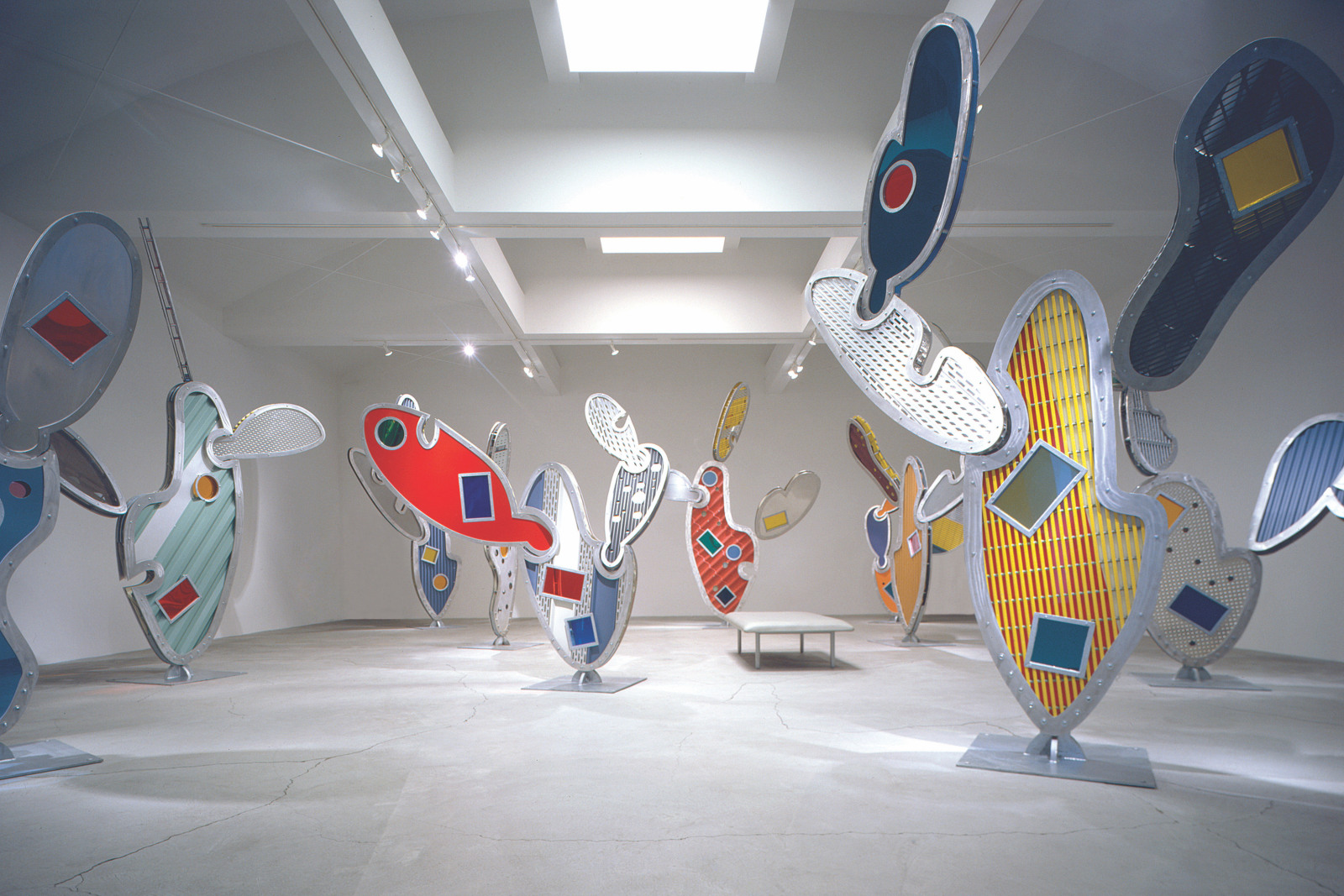 The Directors of Marlborough New York are pleased to present a special exhibition featuring several large-scale works by Alice Aycock alongside an installation by Dennis Oppenheim. The exhibition will be viewable on the ground floor of our newly renovated space located at 545 West 25th Street. This two-person exhibition follows Aycock's highly successful summer exhibition in Stockholm at the Royal Djurgården hosted by the Princess Estelle Cultural Foundation. With memories of the Mudd Club, the Odeon, Debby Harry and 'Heart of Glass,' we take a moment to reunite two kindred spirits in a play of synergistic works that have long and deep histories of particular resonance with the downtown scene in New York.

Alice Aycock's works are intriguing because of their resistance to easy explanations. An early influence was Rem Koolhaas' Delirious New York: A Retroactive Manifesto for Manhattan. She studied with Robert Morris and the art historian Leo Steinberg at Hunter College where she received her MA. Aycock's first large-scale architectural work Maze (1972) was created upon finishing her studies at Hunter College in 1971. Her subsequent early show at 112 Greene Street and her association with Gordon Matta-Clark put her solidly in touch with many of the prominent downtown artists of the seventies, such as Mary Miss and Jackie Winsor. Aycock entered into an intense relationship with Dennis Oppenheim, with whom she remained lifelong friends, and, along with Vito Acconci, were frequently associated by their mutual interests and even greater differences, as shown in the 1979 three-person exhibition at the ICA in Philadelphia entitled Machineworks. For a brief time, they even shared a common visual repertoire. By the late eighties, Aycock began to initiate a new phase of 'shape shifting' with monumental and permanent pieces such as her work at Storm King entitled Three-fold Manifestion II (1987). Works in this presentation are drawn from The Turbulence Series along with several recent large-scale drawings referencing waves, wind turbulence, turbines, gyroscopes, and vortexes of energy.

Regarding Dennis Oppenheim, Lóránd Hegyi wrote: "[He] is a creator escaping any kind of classification or system. Following this meeting with Robert Smithson, he first concentrated on realizations of Land Art (Annual Rings, 1968), then on Body Art (Reading Position for Second Degree Burn, 1970). In these various practices, using landscape or body, the central question for Dennis Oppenheim remains the question of sculpture. After these first forms of experimental "sculpture," through the marking of a place or a body, the artist's practice is turned toward the manufacturing of hybrid objects, monumental structures, or surprising combinations and installations. As a kind of engineer, Dennis Oppenheim then starts imagining complex and poetic machineries; often informed by preparatory drawings done afterward. Sculpture still, but caught in a dynamic movement, transitional, unsure. He uses fireworks, sound, light. He shows and mixes popular figures, animals, objects of everyday life, bringing to sight puzzling combinations and sets of scales."

The installation here presents three unique variations from the series Architectural Cactus (2008). For the cacti works, Oppenheim drew on characteristic forms of artworks of the 1950s and a kind of identification with the cacti's compelling yet repelling status, also apparent in Iron/Cactus (1994) and The Last Dance (1994), which used nails as cactus spines. For a permanent work on a site with a forensics laboratory, Oppenheim drew on the attachment of cacti spines and the fitting together of clues. In Garden of Evidence (2008), six cacti were set within the artist's landscape plan, which included colored glazed fingerprints on low walls and plantings in the form of DNA strands. All twelve unique variations were presented as a gallery installation, Architectural Cactus Grove in 2008, the three here have not been presented since.

Further, installed remotely at our new facility in Buchanan, New York, we are pleased to present Oppenheim's Snowman Factory (1996), a rare installation not seen since it was first shown at Ace Contemporary New York in 2001. Oppenheim wrote in 1995:

The Snowmen produced by the "Factory Complex" (which qualifies as an installation, or site sculpture) are generic monolithic sculptures not unlike what one usually sees throughout the world in sculpture parks and public spaces. Usually represented by a man or a house, these "conventional" sculptures occupied these spaces, and still do, and serve as the layperson's conception of outdoor permanent sculpture… The origin of these images is their genesis, and in this way, the "Factory Complex" is a metaphor for the artist's mind.

Aycock contributed a eulogy, excerpted from ArtForum, May 2011: "Dennis was a trickster, a shape-shifter, a flimflam man, a snake-oil salesman for art, and a rascal. He was highly intelligent, charismatic, and witty… Along with antique cars and motorcycles, Dennis loves dogs, Jackson Pollock, Bruce Nauman, birdhouses, dollhouses, papier-mâché, jack-o-lanterns, Halloween, tramp art, prison art, carnival art."

Marlborough New York follows New York State's guidelines for physical distancing amidst the COVID-19 pandemic. Appointments are encouraged. To schedule an appointment, please call (212) 541-4900, or write gichan@marlborough gallery.com. It is essential that visitors wear a face mask and observe the six-foot social distancing rule at all times when interacting with our staff or with other visitors. For further information, contact dkwalla@marlboroughgallery.com.