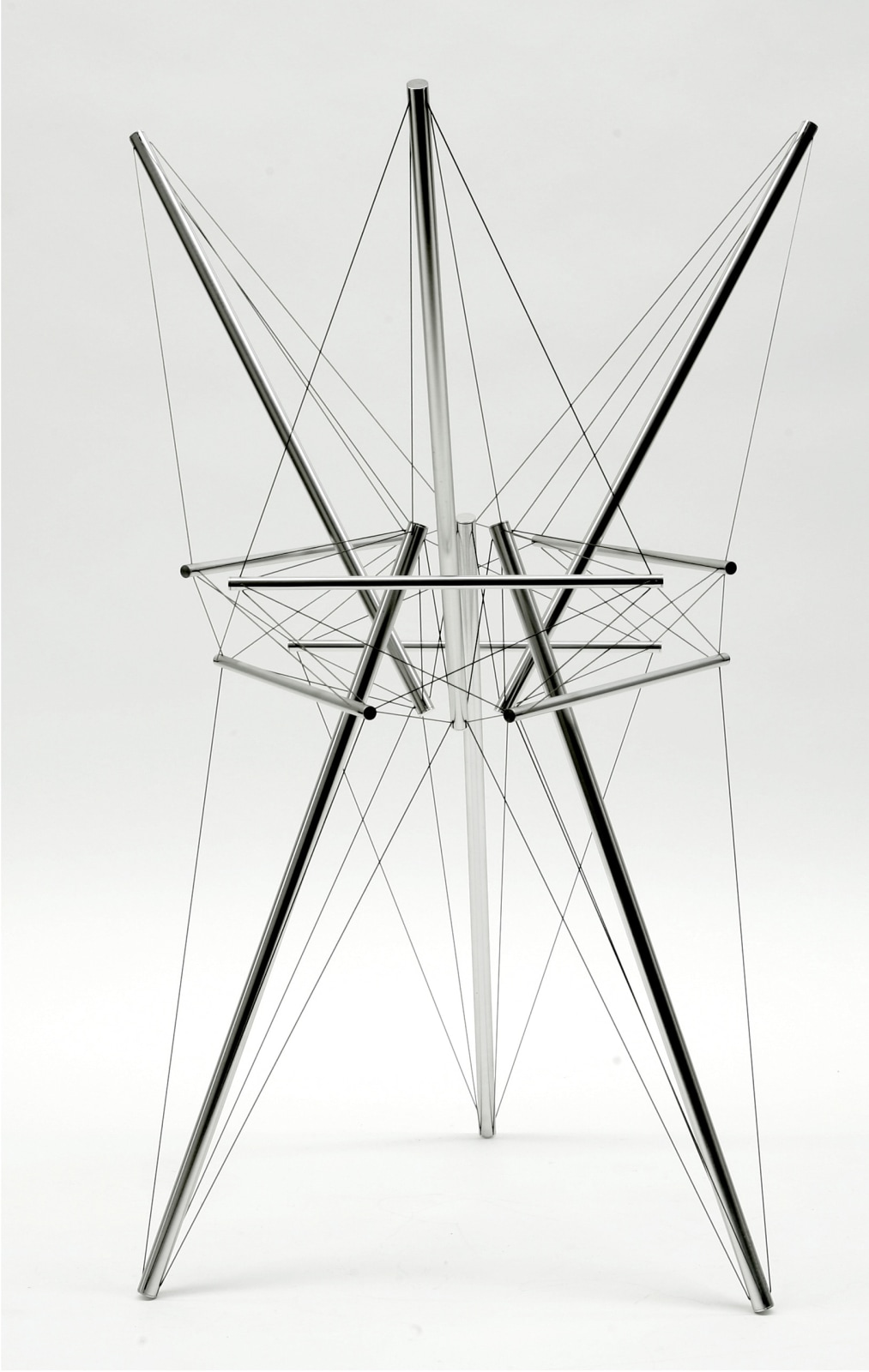 The Directors of Marlborough New York are pleased to present A Tribute to Kenneth Snelson, an exhibition of sculptures and photography from the artist whose work fuses mathematics, science, and art. The exhibition will open on Tuesday, September 21, 2021, and remain on view through Friday, November 12, 2021.

Kenneth Snelson (1927-2016) developed his patented tensegrity structural technology over two summers spent at Black Mountain College alongside his early collaborator Buckminster Fuller. This design innovation manifests itself as a seemingly weightless set of cables and tubes implausibly suspended in space, and would go on to become the driving principle of Snelson's work. As he progressed in his artistic career, Snelson discovered tensegrity could take on a multitude of forms—from towers, to cantilevers, to arches—and exist at monumental scale, producing over forty-five large-scale sculptures that today exist in prominent public collections across the globe.

Though known primarily for his engagements with sculpture and related patented design technologies, Snelson also produced panoramic photographic works. His childhood curiosity with photography was reignited in 1975 at a camera swap, where he discovered a 35-mm panoramic camera. Presented in this exhibition will be Snelson's homage to his love for New York City, sweeping panoramic cityscapes created utilizing a 1917 16-inch Cirkut camera, one of a mere thirty ever produced.

Snelson has received numerous honors and awards, including New York State Council on the Arts Sculpture, 1971; American Institutes of Architects' Medal, 1981; Honorary Doctorate, Arts and Humane Letters, Rensselaer Polytechnic Institute, Troy, NY, 1985; American Academy and Institute of Arts and Letters Art Award, 1987; Membership, American Academy of Arts and Letters, 1994; Lifetime Achievement Award, International Sculpture Center, Hamilton, NJ, 1999; The Elizabeth N. Watrous Prize, National Academy of Design, New York, NY, 2002.

Snelson's work can be found in public and corporate collections internationally, including Albright-Knox Museum, Buffalo, NY; The Art Institute of Chicago, IL; Dallas Museum of Fine Art, TX; Hirshhorn Museum and Sculpture Garden, Washington, D.C.;The Metropolitan Museum of Art, New York, NY; The Museum of Modern Art, New York, NY; Kröller-Müller Museum, Otterlo, Holland; Rijksmuseum, Amsterdam, The Netherlands, Stedelijk Museum, Amsterdam, The Netherlands; Shiga Museum of Modern Art, Japan; Smithsonian Museum of American Art, Washington, D.C.; Stanford University, Palo Alto, CA; Walker Art Center, Minneapolis, MN; and The Whitney Museum of American Art, New York, NY.

A fully illustrated catalogue featuring works dated from 1948-2012, archival photography, and an essay by Dale M. Lanzone will be available at the time of the exhibition. Lanzone acted as national Director of the U.S. General Service Administration's Cultural and Environmental Affairs programs, and over the past twenty-five years developed and managed many large-scale commissioned public and private fine arts projects and exhibitions.

Effective August 17, 2021, Marlborough requires all staff and visitors over the age of 12 to show proof of at least one dose of a COVID-19 Vaccine for entry. Masks are required for all visitors. Proof of vaccination may include CDC Vaccination Card (or photo), NYC COVID Safe App, New York State Excelsior Pass, NYC Vaccination Record, or an official immunization record from outside NYC or the U.S.