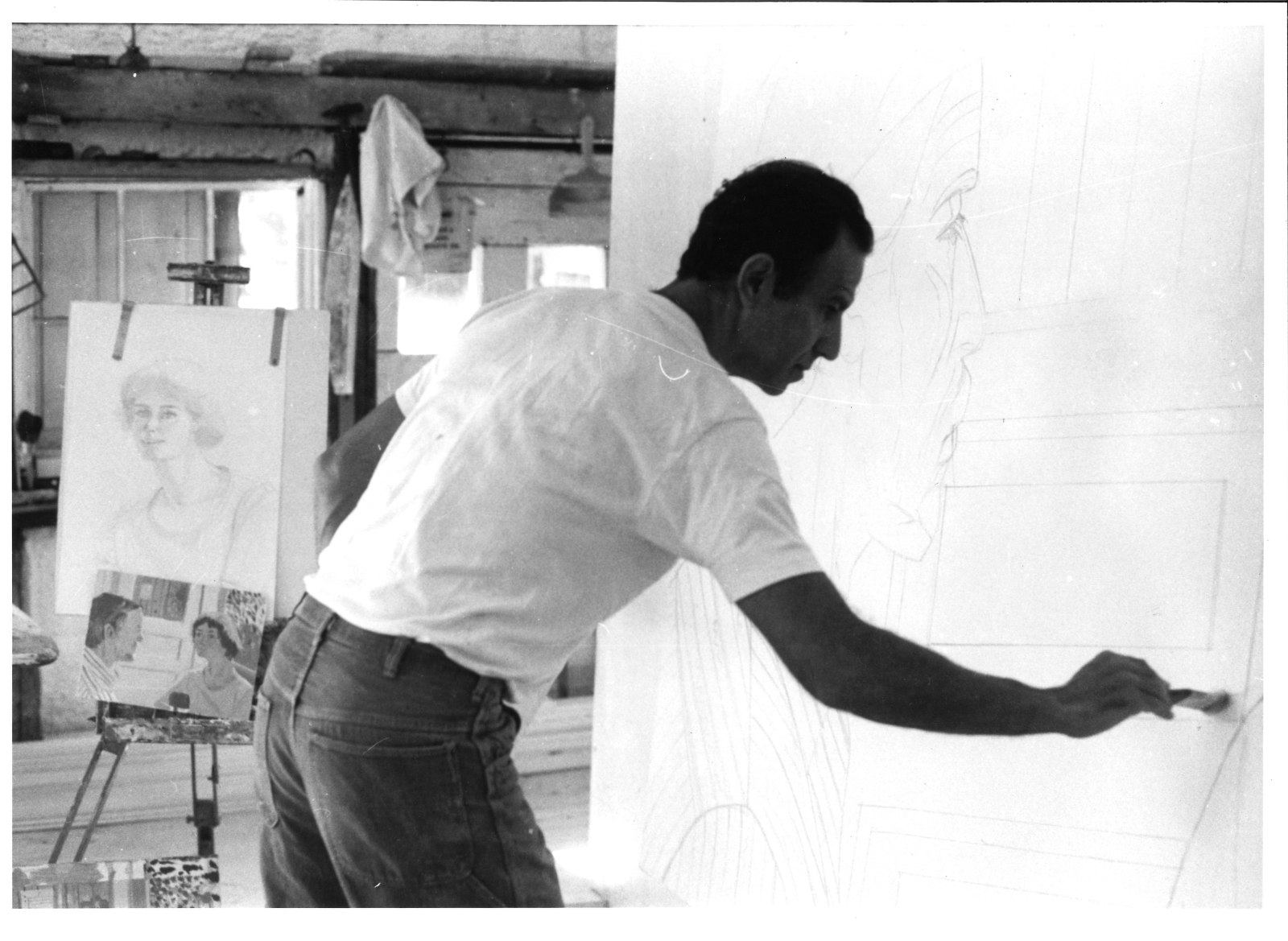 Marlborough is pleased to present A Tribute to Alex Katz, an exhibition in honor of Gathering, the artist's highly anticipated retrospective at the Solomon R. Guggenheim Museum. The installation at Marlborough, featuring a selection of paintings created between 1981 and 1995, will open on Thursday, November 3, 2022 and remain on view through Saturday, January 14, 2023.

Born in Brooklyn in 1927 and raised by Russian émigré parents in St. Albans, Queens, Alex Katz was encouraged artistically from a young age. In 1946, after a yearlong tour with the U.S. Navy, he enrolled in the Fine Arts department at The Cooper Union in Manhattan. "At Cooper, I went from someone who was basically incompetent to being the best painter in the school." A summer scholarship to the Skowhegan School of Painting and Sculpture in 1949 brought his practice out en plein air, and into the richly lit landscape of coastal Maine, where he continues to live and work part-time today.

Katz began showing at Marlborough with a solo exhibition in New York in 1973. Over the next twenty-six years Marlborough would mount nineteen more shows devoted to the artist between the New York, London, Zürich, Madrid, and Tokyo galleries.

The seven figurative paintings presently on view evince the artist's growing tendency through the 1980s and 1990s toward painting figures set in increasingly abstracted surroundings, and the blown-up DeMille-style tightly cropped closeup: Martha, 1981, hones in on the face of one of six female figures depicted in February 5:30 P.M., 1972, a monumental work shown in Katz's first Marlborough exhibition. Raincoat Triptych, 1982, and Yvonne in Green, 1995, focus on sartorial gestures—glimpses of figures which could have been culled as easily from a catwalk or fashion editorial as from a fleeting moment with a stylish friend. Two paintings from 1993 and 1994 feature the artist's most prodigious subject, his wife Ada.

Katz's work is found in over one hundred public collections worldwide. Mostly notably, those in the U.S. include the Albright-Knox Gallery, Buffalo, New York; Art Institute of Chicago, Chicago, Illinois; Brooklyn Museum, Brooklyn, New York; Carnegie Museum of Art, Pittsburgh, Pennsylvania; Des Moines Art Center, Des Moines, Iowa; Detroit Institute of Art, Detroit, Michigan; High Museum of Art, Atlanta, Georgia; Hirshhorn Museum and Sculpture Garden, Smithsonian Institution, Washington, District of Columbia; The Jewish Museum, New York, New York; Los Angeles County Museum of Art, Los Angeles, California; The Metropolitan Museum of Art, New York, New York; Milwaukee Art Museum, Milwaukee, Wisconsin; Museum of Fine Arts, Boston, Massachusetts; The Museum of Modern Art, New York, New York; National Gallery of Art, Washington, District of Columbia; Philadelphia Museum of Art, Philadelphia, Pennsylvania; Wadswoth Atheneum, Hartford, Connecticut; and the Whitney Museum of American Art, New York, New York.

Internationally, Katz's work can be found in the collections of the Albertina Museum, Vienna, Austria; Centre Georges Pompidou, Paris, France; Guggenheim Museum, Bilbao, Spain; Institut Valencià d'Art Modern Julio González, Valencia, Spain; Musée Cantonal des Beaux-Arts, Lausanne, Switzerland; Museo Nacional Centro de Arte Reina Sofía, Madrid, Spain; Museo Rufino Tamayo, Mexico City, Mexico; Museum Moderner Kunst, Vienna, Austria; Museum of Contemporary Art, Tokyo, Japan; National Gallery, Berlin, Germany; National Gallery of Scotland, Edinburgh; Scotland; Sonje Museum of Contemporary Art, Kyonqiu-Shi, South Korea; and Tate Gallery, London, England, among others.

Alex Katz: Gathering is on view at the Guggenheim from October 21, 2022 through February 20, 2023.