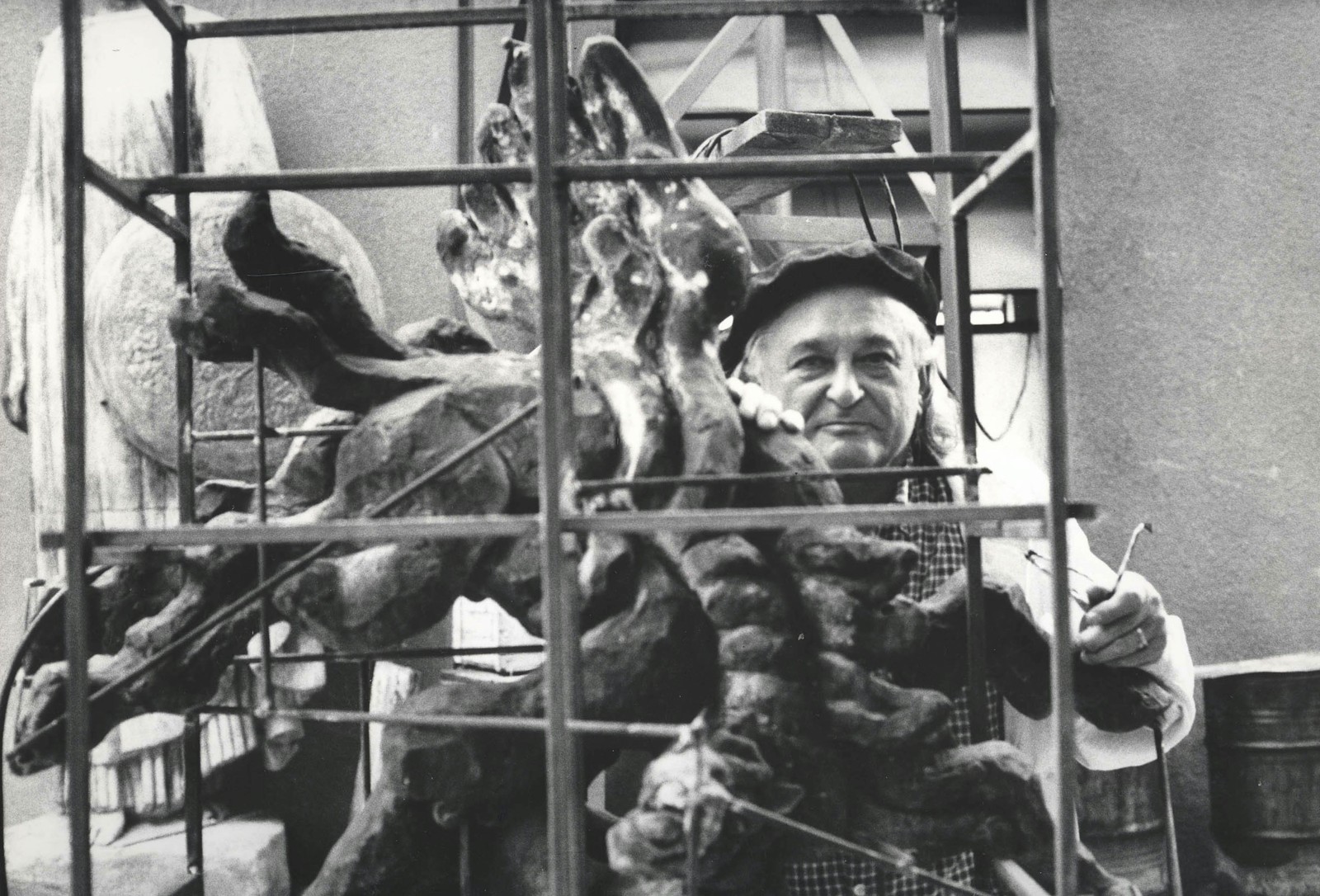 Born in Lithuania in 1891, Lipchitz arrived in Paris in 1909 to begin working as a sculptor and quickly became acquainted with key members of the avant-garde. Shortly after fleeing Paris for New York in 1941, Lipchitz began to show in galleries and museums and continued until his death in 1973. The artist's first exhibition with Marlborough Gallery was in 1966.
Lipchitz's early works, in stone and later in bronze, realized the potential of Cubism as a sculptural form. Beginning in 1918, Lipchitz created bas-reliefs that depicted still lifes of objects such as a wine bottles, fruit baskets and, most often, musical instruments. Often placed in a deeply cut oval, curvilinear shapes and planes in high relief emphasized the contrasts of light and shadow and thus the three-dimensional sculptural effect. In 1922, Albert Barnes, an enthusiastic early collector of the artist's work, commissioned Lipchitz to create five of these bas-relief works for his museum, The Barnes Foundation. In 1925 Lipchitz began creating his celebrated "Transparents," which displayed three-dimensionality in an ambiguous and flattened way, with planes superimposed upon each other as if in interplay of amorphous densities. He went on to create "open" sculptures, such as Man Leaning on Elbows (1925), the Head of a Woman (1930) and Meditation (1931), that utilized negative space. In these works, the volumes of the figures were realized through the voids left between the planes, breaking with the then traditional notions of the interrelation of space and emptiness.
Jacques Lipchitz has been included in group and solo exhibitions at The Museum of Modern Art, New York, New York; Neue Nationalgalerie, Berlin, Germany; The Musée National d'art Modern, Paris, France; Institut València d'Art Modern, València, Spain, among many others. In 2018-2019 The Moscow Museum of Art in Russia presented a major retrospective was presented. Lipchitz's work is featured in innumerable museums worldwide, including: Centre Pompidou, Paris, France; Centro Museo de Arte Reina Sofía, Madrid, Spain;, New York; Israel Museum, Jerusalem, Israel; The National Gallery of Art, Washington, D.C.; Art Institute of Chicago, Chicago, Illinois; Tate Britain, London, United Kingdom; Sprengel Museum, Hannover, Germany; Stedelijk Museum, Amsterdam, The Netherlands; The State Hermitage Museum, St. Petersburg, Russia; and The Metropolitan Museum of Art, The Museum of Modern Art and The Whitney Museum of American Art, all in New York, New York.