"I create work to discover it. To make its acquaintance. To sculpt a space. A sudden, energetic space."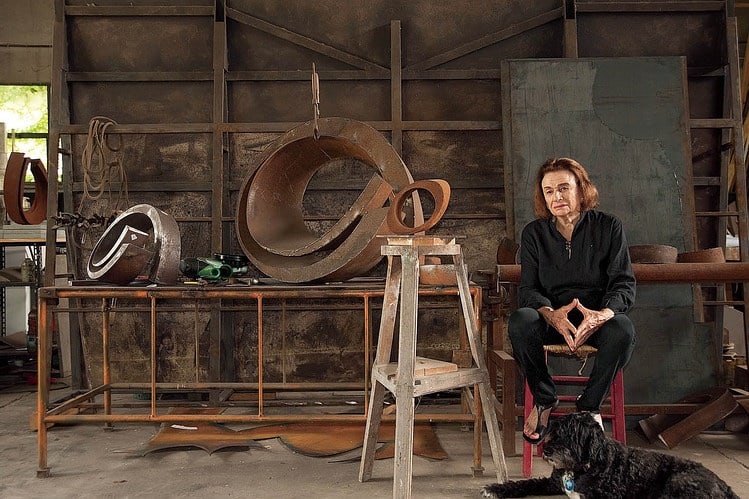 Born in 1922 in Brooklyn, Pepper trained to as a painter with Fernand Léger and André Lhote in Paris. After a trip to Angkor Wat in 1960 she turned to sculpture. In 1962, along with David Smith and Alexander Calder, she participated in the landmark exhibition, Sculture Nella Cittá, in Spoleto, Italy. In addition to a lifetime of gallery exhibitions, she has had numerous solo museum shows, among them those at the The Metropolitan Museum of Art, New York, New York, Albright-Knox Art Gallery, Buffalo, New York, The Brooklyn Museum, Brooklyn, New York, The San Francisco Museum of Art, San Francisco, California and the Ara Pacis Museum in Rome, Italy. Pepper has worked extensively with public sites creating numerous land-art works and monumental iron sculptures in the United States, as well as in Europe and Asia. In 2018, the artist inaugurated a 3,000 square meter open-air theatre in Italy. Before her death in 2020, she completed work on the Beverly Pepper Park, the first mono-thematic park of contemporary sculpture by the artist in the world.
Pepper's works can be found in major museums throughout the world including the Centre Georges Pompidou, Paris, France; The Corcoran Gallery of Art, Washington, D.C.; Dallas Museum of Art, Dallas, Texas; Galleria Nazionale d'Arte Moderna, Rome, Italy; The Hirshhorn Museum and Sculpture Garden, Washington, D.C.; The Metropolitan Museum of Art, New York, New York; Museu d'Art Contemporari de Barcelona, Spain; Museum of Contemporary Art, Chicago, Illinois; Museum of Modern Art, Sapporo, Japan; The Walker Art Center, Minneapolis, Minnesota; IVAM, València, Spain; The Frederik Meijer Sculpture Garden and Park, Grand Rapids, Michigan and The Whitney Museum of American Art, New York, New York.
Throughout her career, Pepper received several awards, among those: Doctor of Fine Arts Pratt Institute; Accademico di Merito, Universtiy of Perugia; Chevalier de l'Ordre des Arts et des Lettres, France; The Alexander Calder Prize, 2000; Pratt Institute, Legends Award, 2003; the International Sculpture Center Life Achievement Award, 2013 and Commendatore all'Ordine del Merito della Repubblica Italiana in 2015.