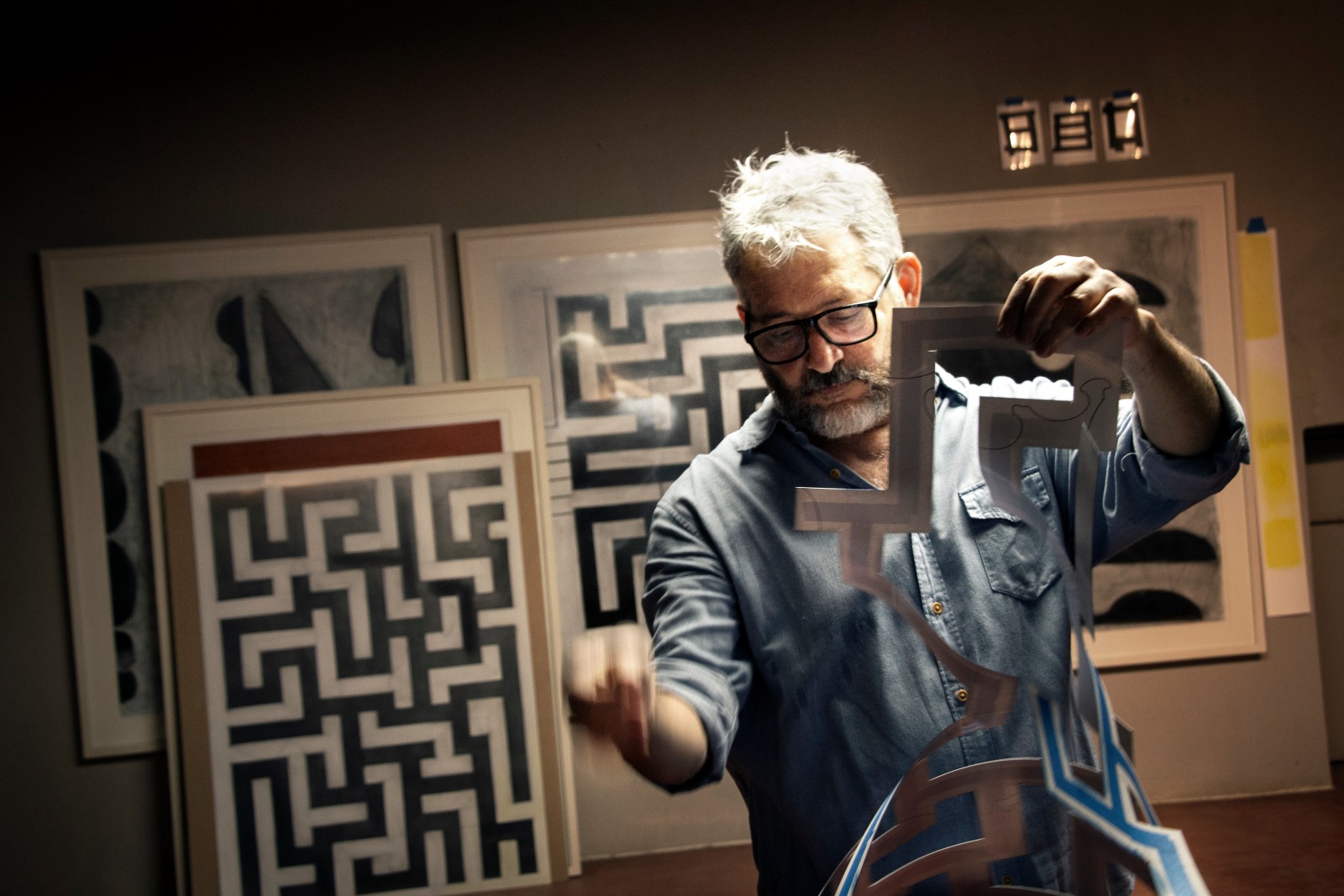 The mythology around Gustavo Pérez Monzón tells a narrative of rediscovery not uncommon for local art movements of the twentieth century taking shape outside the traditional art centres of Europe and the United States. Having made a profound and lasting impact, in the early 1980s, on the art scene in his native Cuba, Pérez Monzón, at the height of his success, chose to retreat from the art world and focus on teaching instead. With his work rediscovered by an influential collector nearly four decades later, Pérez Monzón has recently returned to creating art, producing mixed-media works on paper as well as site-specific installations that evince the same formal preoccupation with Minimalism and Conceptualism that had shaped his earlier work. The explorations at the basis of his practice can be described as introspective – spiritual, even; their elegant, pared-down aesthetic is imbued with an interest in coded systems and a fascination with arcane sciences.
Untitled (2018) is reminiscent of a maze with its branching thick black lines and angles. Yet no path can be traced within the drawing; all entrances lead to dead ends. It is as if the geometrical figures created by the lines – which occasionally evoke ancient sacred patterns – were extended to reject the dogma of there being a single thinkable answer. The viewer's gaze, erring to and fro, eventually eases to absorb the work in its entirety, perhaps noticing for the first time that the arrangement is off-centre. The cumulation of grey, black and striped shapes in Untitled (2016) resembles an aerial view of farmland, in which the demarcation of the adjacent plots follows an impenetrable logic, while their patterned interiors provide clues to what might be cultivated within. In a 2018 interview in Studio International, Pérez Monzón explained he 'was interested in the idea of a world of invisible connections and meanings, as expressed in ancient sciences such as numerology, the Kabbalah and certain esoteric schools…the way in which geometric forms express abstract, philosophical, and even emotional concepts.' Two elongated shapes dominate another untitled work from 2016 – one a yellowish amber, one black – created by staggered repetitions of geometric patterns. The same patterns are repeated across the drawing's entire surface in thin, interconnected lines the effect of this is multiple overlaid planes, as if the patterns exist all around, floating in the ether, and have coalesced by chance, or intervention, into something resembling totems or pillars. In the Book of Exodus, the Israelites are said to have followed a pillar of fire by night and a pillar of cloud by day to lead them through the desert in their flight from slavery to self-determination. Here, the two pillar-like shapes echo this notion of cosmic divination existing in dualism.
–Hili Perlson in Vitamin D3, eds. Louisa Elderton and Rebecca Morrill (London and New York: Phaidon Press, 2021), 198.