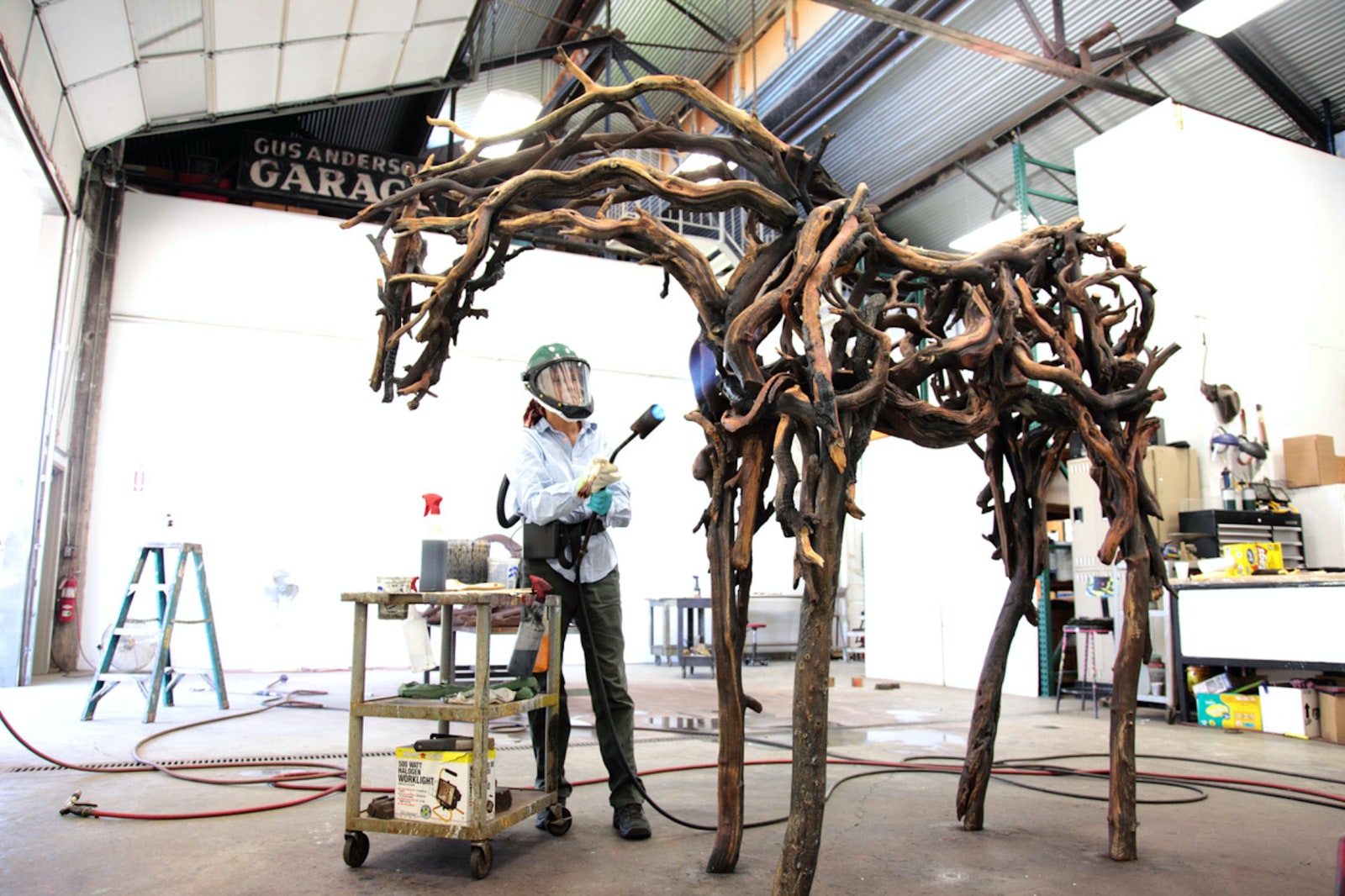 Born in 1949 in San Diego, California, Deborah Butterfield is a major American sculptor best known for her renditions of horses made from found detritus, metal, wood, and cast bronze with highly sophisticated patinations. Butterfield partially credits her birthday as the inspiration for her subject matter, as it fell on the same day as the running of the 75th Kentucky Derby.

While completing her BA and MFA at the University of California, Davis, Butterfield studied with Robert Arneson, William Wiley, Roy DeForest, Manuel Neri, and Wayne Thiebaud. From the mid-1970s through mid-1980s, Butterfield taught at the University of Wisconsin, Madison followed by Montana State University, Bozeman.

Zolla/Lieberman Gallery in Chicago hosted Butterfield's first gallery exhibition in 1976. Since then, she has exhibited widely, mounting solo shows at the Seattle Art Museum, Seattle, Washington; Dallas Museum of Fine Arts, Dallas, Texas; Lowe Art Museum, University of Miami, Coral Gables, Florida; Madison Art Center, Madison, Wisconsin; San Diego Museum of Art, San Diego, California; Yellowstone Art Museum, Billings, Montana; The Contemporary Art Museum, Honolulu, Hawaii; Neuberger Museum of Art, Purchase, New York; Norton Museum of Art, West Palm Beach, Florida; Tucson Museum of Art, Tucson, Arizona; and Grounds for Sculpture, Hamilton, New Jersey, among others. Butterfield continues to collaborate with Zolla/Lieberman, as well as with the LA Louver Gallery in Los Angeles, Greg Kucera Gallery in Seattle and Anglim Trimble Gallery in San Francisco.

Butterfield's work is included in numerous public collections, including the Art Institute of Chicago, Chicago, Illinois; The Brooklyn Museum, Brooklyn, New York; Chrysler Museum, Norfolk, Virginia; Cincinnati Museum, Cincinnati, Ohio; Dallas Museum of Art, Dallas, Texas; Hirshhorn Museum and Sculpture Garden, Washington, D.C; The Metropolitan Museum of Art, New York, New York; Nelson-Atkins Museum of Art, Kansas City, Missouri; San Francisco Museum of Modern Art, San Francisco, California; Walker Sculpture Garden, Minneapolis, Minnesota, and the Whitney Museum of American Art, New York, New York.

Butterfield divides her time between three studios, which she shares with her artist-husband, John Buck, at her horse ranch in Bozeman, Montana, a large-scale studio in Walla Walla, Washington, and a third studio space in Hawaii.